About Us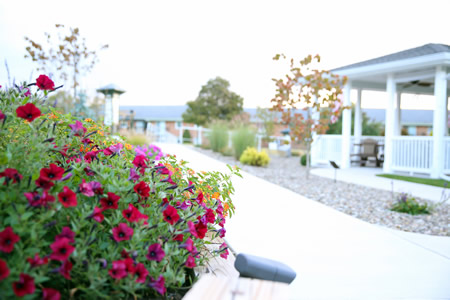 The Williamsport Home has been celebrating life since 1872. Our tradition of caring is built on an understanding of the dignity and unique needs of every individual. No matter how long or short your stay with us, the dedicated and caring staff will treat you like family.
Because your needs may change during your stay with us, The Williamsport Home offers distinctive levels of care. From Independent Living Apartments to Skilled Nursing Care to Short-term Rehabilitation, we are here to provide the assistance you need, when you need it. Personal Care programs, a secured Memory Care unit, and End of Life Suites/Comfort Care Services, are also a part of The Williamsport Home's continuum of care offerings.
Life at The Williamsport Home
Maintaining a quality of life is our emphasis and we will work with you and your loved ones to customize an individualized or person-centered care plan that is right for you.
Residents can take advantage of a full calendar of events to make their stay with The Williamsport Home a healthy and positive experience. You can choose from traditional games like bingo, music and nail care to pet visits, ice cream socials and outings.
The Williamsport Home also has an executive chef on staff creating nutritious and delicious meals for residents.
We invite you to visit with us and learn more.
Our Mission, Vision, and Values
Our Mission
The Williamsport Home's mission is to provide our residents with the highest quality of care, while honoring their independence and dignity.
Our Vision
The Williamsport Home's vision is to be the campus of choice, comprised of dedicated staff who strive to provide quality, compassionate care, and affordable services to our residents.
Our Values
Here at The Williamsport Home, we value our tradition of caring. Our staff are well trained to serve residents and families with professional services delivered on a continuum of care. We honor resident choice and family satisfaction.
History
"The Home for the Friendless" was a ministry founded by a group of Christian women in Williamsport in 1872. The original name of the ministry was the Woman's Christian Association. The women changed the name of their Association to the Home for the Friendless in 1876.
The Home for the Friendless, originally located on Pine Street, provided for the temporal, moral, and religious welfare of homeless and friendless women and children, especially aged women.
Elderly women had to be over 65 years of age and have no other means of support. Children were admitted for a limited period of time. Although age guidelines changed over the years, children had to have either only one or no parents. The parent or guardian was to pay for board and shoes when they were able. Often the children returned to their families when their family situation stabilized.
In 1940, the Home for the Friendless began to phase out providing care for children and its name was changed to The Williamsport Home. When the last child left the Home, the organization, created by ten women and with the support of the community, had cared for hundreds and hundreds of needy children over a period of almost 80 years.
In 1975, The Williamsport Home moved to its present location at 1900 Ravine Road. The Williamsport Home continues to serve senior women as well as men, and is managed by a volunteer, all-female board of directors.
*History obtained from The Lycoming County Historical Society's Journal Volume XLIX/Winter 2013/14 and The Lycoming County Women's Historical Collection