Details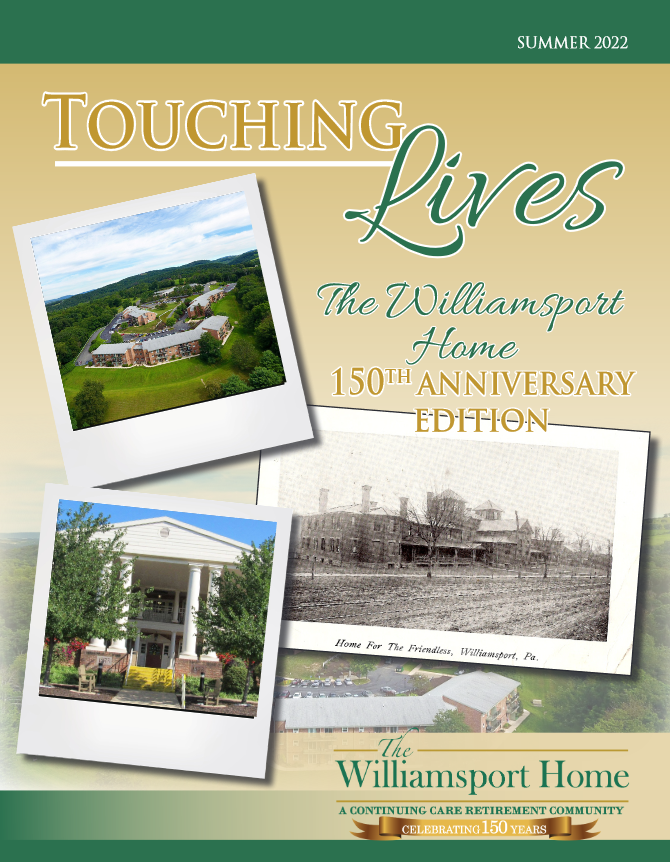 The Williamsport Home: A Friend Always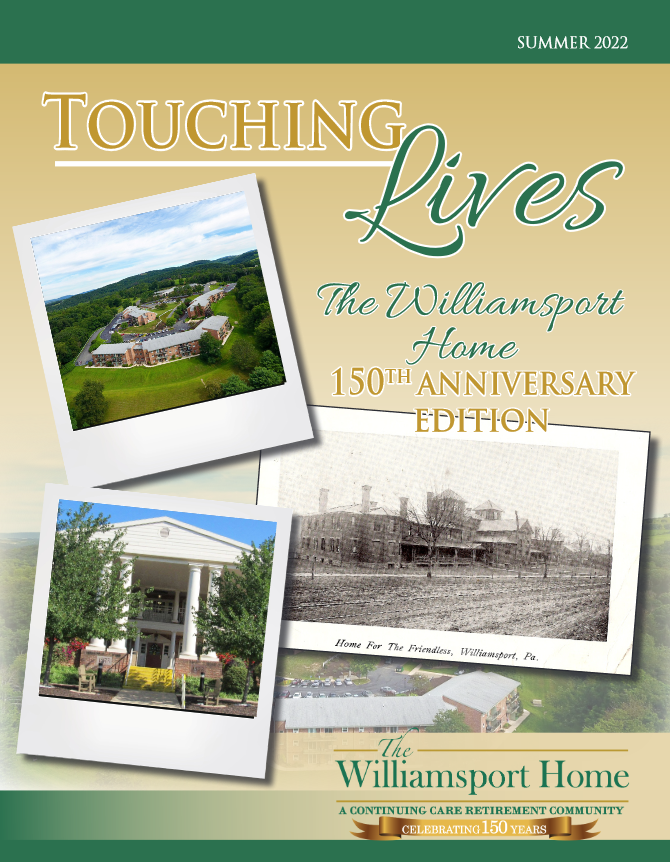 This special edition of Touching Lives is dedicated to our 150th anniver­sary of serving Williamsport and Lycoming County. You will see the evolution of our campus as well as hear firsthand from our residents as they describe the impact our specialized services on their daily lives.
Since 1872, The Williamsport Home has established a rich tradition of providing quality care and services in a warm and welcoming atmosphere where dignity and respect are held close. Our immaculately maintained, 86–acre grounds located atop a hill, at the edge of Williamsport, has been a haven for those who desire housing and retirement living amenities as well as those in need of health care services.
Our retirement living supports an active lifestyle, where friends are made and additional support services are available should they be needed in the future. Through the years, campus services have evolved to our current offering of personal care, memory care, skilled nursing, end-of-life and comfort care, and short-term rehabilitation services.
We have been blessed with many long-term, devoted staff who have committed their careers to serving our campus residents. Many lasting friendships have developed along the way. Friends often become family at The Williamsport Home.
Our current campus operations began in November 1975 providing care at the health care center. The following year, our first apartment building opened for residents. Deerfield Apartments and Valley View Apartments soon followed in 1980 and 1986 respectively offering housing accommodations for retirees who desire a maintenance free, active and independent lifestyle. In 1998, we licensed our Valley View Apartment as personal care, allowing residents to age in place as their care needs change.
Our campus today can accommodate up to 129 health care residents who need skilled care. Garden Terrace provides specialized memory-support services while our Ravine Ridge meets the needs of those who seek short-term rehabilitation care. We have two campus locations offering personal care services. In addition to our Valley View apartments, the Woodland Vista, located on the 2nd floor of the health care center can serve as home to 16 residents. Our three apartment buildings provide housing accommodations for up to 177 active seniors.
We are grateful for the governance and guidance of our board of directors throughout our 150-year journey. An all-female board by charter, we have been blessed with many community professionals who have volunteered freely to ensure the availability of resources to enable our staff to provide quality care and services that has become the hallmark of our existence.
In 150 years, The Williamsport Home has become Lycoming County's continuing care community of choice. From our humble beginnings as the "home for the friendless," we are now a full service retirement community, offering a vast array of service and amenities nestled in a quiet woodland setting where walking trails, flower gardens, blue birds, and white tail deer visit as friends. A place to call "Home" and a "Friend" to all.