Holiday Tea Invitation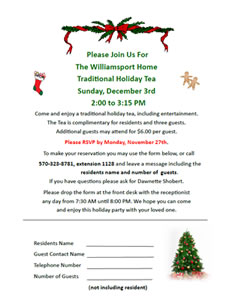 Please Join Us!
The Williamsport Home Traditional Holiday Tea Sunday
December 3rd 2:00 to 3:15 PM
Come and enjoy a traditional holiday tea, including entertainment.
The Tea is complimentary for residents and three guests. Additional guests may attend for $6.00 per guest.
Please RSVP by Monday, November 27th.
To make your reservation you may use the form below, or call:
570-323-8781, extension 1128 and leave a message including the residents name and number of guests.
If you have questions please ask for Dawnette Shobert.
Please drop the form at the front desk with the receptionist any day from 7:30 AM until 8:00 PM. We hope you can come and enjoy this holiday party with your loved one.